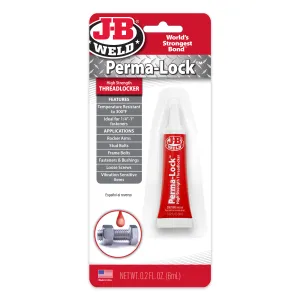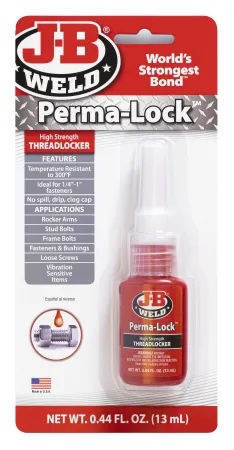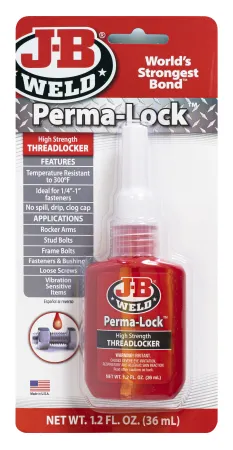 TEMPERATURE RESISTANT TO 300°F
IDEAL FOR ¼" TO 1" FASTENERS
NO SPILL, DRIP, OR CLOG CAP
Perma-Lock Red Threadlocker
SKU: 27106
$ 7.49 In stock https://jbweld.com/product/perma-lock-red-threadlocker
J-B Weld Threadlockers provide a reliable and superior lock and seal for threaded fasteners. Ideal on all mechanical parts, body assemblies, and hundreds of other applications to prevent loosening of fasteners from shock and vibration. J-B Weld Perma-lock High Strength Threadlocker is ideal for heavy-duty applications requiring resistance to severe shock and vibrations. Heating and hand tools are required to separate parts.
Great For
Rocker Arms
Stud Bolts
Frame Bolts
Fasteners and Bushings
Loose Screws
Vibration Sensitive Items
Use On
Automotive
Threadlockers
And More
It's Easy To Get
The Fix You Need
1
Prepare
Clean all threads (bolt and hole) with a cleaning solvent. Shake the product thoroughly before use.

2
Apply
For thru holes, apply several drops of product onto the bolt at the nut engagement area.
3
Assemble
Assemble and tighten as usual. When tightening to established torque values, torque compensation is not required.