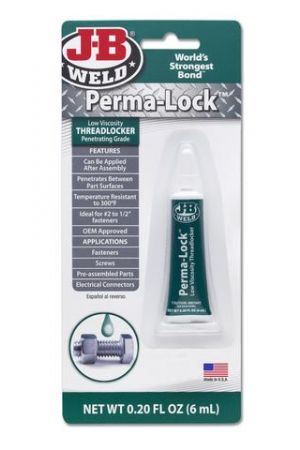 Perma-Lock Penetrating Threadlocker
SKU: 29006
$ 7.49 In stock https://jbweld.com/product/perma-lock-penetrating-threadlocker
J-B Weld Threadlockers provide a reliable and superior lock and seal for threaded fasteners. Ideal on mechanical parts, body assemblies, and hundreds of other applications to prevent loosening of fasteners from shock and vibration. The perma-lock low viscosity green thread locker penetrates between part surfaces for a secure seal with no disassembly necessary. It can be applied to pre-assembled parts and is ideal for 1/2 inch to 2 inch fasteners.
Great For
Carburetor adjustment screws
Distributor bolts
Preassembled nuts & Bolts
Set screws
Use On
Automotive
Threadlockers
And More
It's Easy To Get
The Fix You Need
1
Prepare
Clean all threads (bolt and hole) with a cleaning solvent. Shake the product thoroughly before use.

3
Apply
Place several drops of product onto the areas where threads enter parts..