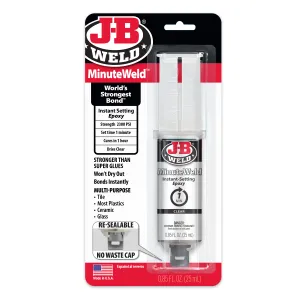 MinuteWeld™ Syringe - 25 ml
SKU: 50101
$ 7.99 In stock https://jbweld.com/product/minuteweld-syringe
MinuteWeld™ is a special formulated, high-strength, two-part instant setting epoxy. MinuteWeld™ will set under most temperature conditions in one minute. MinuteWeld™ is designed to adhere to multiple surfaces and can be used on ceramic, tile, glass, stone, most plastics, wood and metal.
Great For
Tile
Most Plastics
Ceramic
Glass
Use On
Automotive
Ceramic
Cloth/Carpet
Fiberglass
Plastic/Composite/PVC
And More
1
Prepare
Clean repair area of dirt, grease, oil, paint, rust, etc.*
2
Mix
After removing the replaceable cap, press down on plunger and squeeze equal amounts onto a disposable surface and mix thoroughly
3
Apply
Apply with appropriate tool in an even coat, weld bead or extruded shape as needed.
4
Dry
Sets in 1 minute. Cures in 1 hour. If temperature is below 40ºF, then set time is longer

* For best results use a detergent or degreaser to first clean the surface, then roughen surface with file or coarse sandpaper to provide the best repair
A Few
Similar Products
SuperWeld™ Instant Adhesive