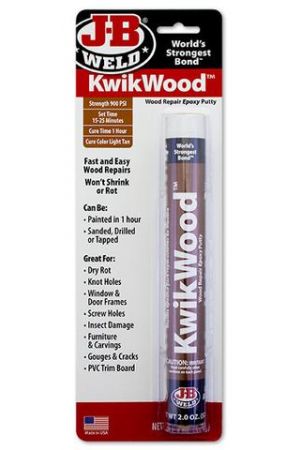 KwikWood™ Epoxy Putty - 2 oz
SKU: 8258
$ 9.99 In stock https://jbweld.com/product/kwikwood-epoxy-putty-2oz
KwikWood™ is a hand-mixable epoxy putty, formulated to repair and rebuild wood. After mixing, it cures to the same density as wood and becomes an integral part of the repair. For use on exterior or interior applications, it contains no solvents, will not rot, shrink, crack or pull away. KwikWood™ has a 15-25 minute work life. After 60 minutes, it can be machined, drilled, tapped, sanded, filed and painted. Stronger than wood, KwikWood™ dries to a light tan color.
Great For
Dry Rot
Knot Holes
Window & Door Frames
Screw Holes
Insect Damage
Furniture & Carvings
Gouges & Cracks
PVC Trim Board
Use On
Rotted Wood
Wood
And More
It's Easy To Get
The Fix You Need
1
Cut
Remove required amount of putty.
2
Mix
Thoroughly knead putty with fingers to a uniform color.
3
Apply
Press putty firmly to the surface to be repaired.
A Few
Similar Products
\r\n<\/ul>","great-for-list-item":["Indoor\/Outdoor","Furniture","Doors","Windows","Trim\/Molding","Decks & More"],"use-on-list-item":["Rotted Wood","Wood","And More"],"set-time":"15 Minutes","cure-time":"30 Minutes","additional-attributes":[null],"size":null,"data-sheet":"446202","prop-65":"244570","quantity-dropdown":null,"max-quantity":null,"page-inputs":null,"step-title":"","hide-comparison-grid":null,"retailers-heading":null,"retailers-title":null,"retailers-content":null,"retailers":null,"reviews":null,"review-1":null,"review-2":"
<\/div>\r\n\r\n
<\/div>\r\n\r\n
<\/div>\r\n\r\n
<\/div>"}' data-url='/product/woodweld-syringe'>
WoodWeld™ Syringe - 25 ml
Wood Restore Premium Epoxy Putty
Find The Right Product
For Your Job Is Easy
Select a Project Category
Select A Home DIY Project
Select A Automotive Project
Select A Crafting Project
Select A Plumbing Project
Select A Pool / Marine Project
Select A Carpentry Project