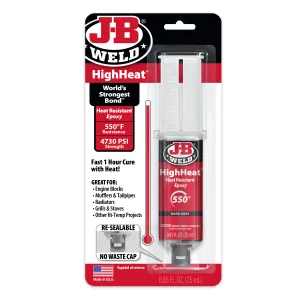 1 hour with heat or 24 hours at room temperature
HighHeat Syringe - 25 ml
SKU: 50197
$ 7.99 In stock https://jbweld.com/product/high-heat-syringe
J-B Weld HighHeat is a two-part epoxy system that provides strong, lasting, heat-resistant repairs up to 550°F. Mixed at a ratio of 1:1, it forms a permanent bond that has a 4730 PSI strength and is chemical and fuel resistant. At room temperature, HighHeat sets in 1 hour and cures in 24 hours. HighHeat's cure time is accelerated by heat and can cure in 1 hour at 250°F.
Great For
Household Repairs
Automotive
Plumbing
Marine
Crafts & More
Use On
Automotive
Brick
Ceramic
Concrete
And More
It's Easy To Get
The Fix You Need
1
Prepare
Clean repair area of dirt, grease, oil, paint, rust, etc.
2
Mix
After removing the replaceable cap, press down on plunger and squeeze equal amounts onto a disposable surface and mix thoroughly.
3
Apply
Apply with appropriate tool in an even coat, weld bead or extruded shape as needed.
4
Dry
Set in 1 hour, and cures in 1 hour with heat, or 24 hours at room temperature.