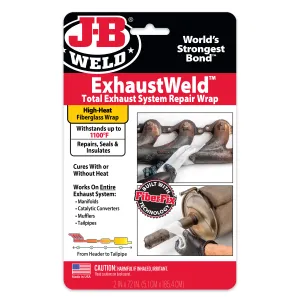 20 min with heat, 2 hours without heat
ExhaustWeld Fiberglass Wrap
SKU: 38572
$ 14.99 In stock https://jbweld.com/product/exhaustweld
ExhaustWeld Total Exhaust Repair Wrap is a high strength fiberglass wrap, impregnated with a specially formulated resin for high temperature resistant repairs. Includes one 2" x 72" repair wrap, a pair of gloves, and aluminum tape.

Works on entire exhaust system!

Withstands temperatures up to 1100ºF
Cures with or without heat to repair, seal & insulate the exhaust system

Great For
Exhaust Manifolds
Tail Pipes
Mufflers
Engine Blocks
Use On
Automotive
Metal
And More
1
Prepare
Clean area of all oil, dirt, and grease. Roughen up surfaces for better adhesion. Wear provided gloves.
2
Apply
Knead pouch to ensure wrap is saturated. Open pouch and wrap the damaged area as tightly as possible without slipping. Use entire roll, applying at least 5 layers over the break itself, and 2-4 inches of wrap support on both sides of the break.
3
Secure
Apply included aluminum tape around wrap to secure in place while curing. Do not fully cover wrap with tape.
4
Cure
To cure with heat, either use a heat gun or turn the car on for 20 minutes. Product cures in 2 hours without heat. Remove aluminum tape after curing.
A Few
Similar Products
HighHeat™ Epoxy Putty - 2 oz
MufflerSeal Muffler Cement