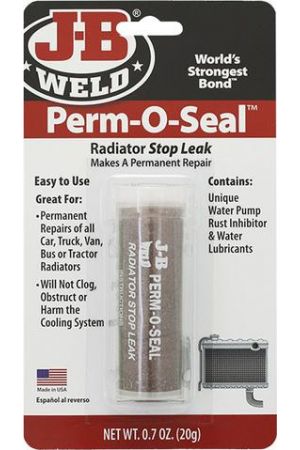 Perm-O-Seal™ 0.7 oz
SKU: DS114
$ 2.49 In stock https://jbweld.com/product/perm-o-seal
Perm-O-Seal™ is a specially formulated non-toxic compound ground to a very fine particle size to quickly mix and flow into all areas of the cooling system to find and seal leaks. The powered concentrate allows for an economical repair as compared to liquid based alternatives that use similar technology. The special compound will quickly seal leaks and will also act as a rust inhibitor and lubricant to internal cooling system parts. It will not clog or harm your cooling system.
Great For
Permanent Repairs for All Car, Truck, Van, Bus, and Tractor Radiators
Will Not Clog or Harm Cooling System
It's Easy To Get
The Fix You Need
1
Pour
Pour contents of package slowly into radiator while running motor fast enough to circulate the water.
2
Run Motor
Continue to run motor until water is hot and leak stops.
3
Complete
For extra large leaks where water runs out before Perm-O-Seal has time to work, catch the solution and pour back into radiator, repeating the operation until a complete seal is effected.